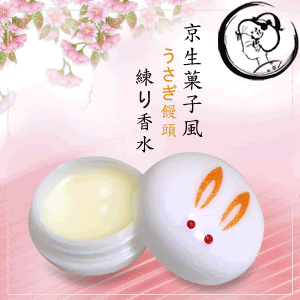 Description
This little jar of rub-on perfume is made in the shape of a 'Usagi Manju' in Kyoto Japan. Volume of each jar is 8g.

There are three types of smell:
'Jinchouge': the scent of Japanese Daphne blossom (Lilac Flower)
'Momo': the scent of Japanese Peach Blossom
'Kinmokusei': the scent of an oriental Fragrant Olive blossom (Orange Osmanthus)
These are seasonal blooms typically found in a Japanese garden and are lovely scents! All are subtle perfumes meant to be rubbed in small quantity on the neck, behind the ears or on the wrist, depending on each interest. They contain Bee's Wax and other natural essences. Each one comes in a cute re-sealable jar, which comes in handy for everyday usage. Perfect for dates!



Flower Perfume Cream (Jinchouge)
Product code: FPC8001
Status: Preorder
NO Extra Charges! (except reg. mail)

Price: SGD18.90

Flower Perfume Cream (Kinmokusei)
Product code: FPC8002
Status: Preorder
NO Extra Charges! (except reg. mail)

Price: SGD18.90

Flower Perfume Cream (Momo)
Product code: FPC8003
Status: Preorder
NO Extra Charges! (except reg. mail)

Price: SGD18.90